Skip to content
Skip to navigation menu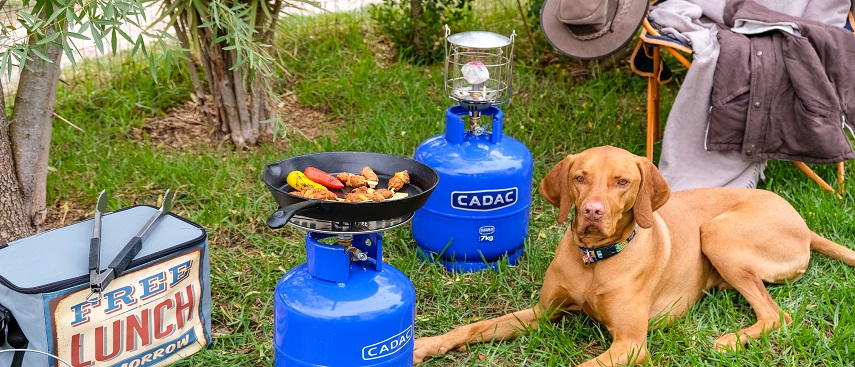 Whether you're cooking indoors or braaing outside, you'll find that gas is one of the most versatile fuels for the job. There's far more to gas than just an appliance and a cylinder, though. Here's a closer look at the various fittings and accessories available.
CAMPING
Gas Lantern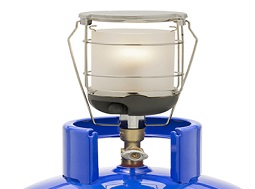 The most common gas lanterns are either 100 or 300 candlepower (CP) – which is more than enough to light up a small campsite. Choose a lantern that's fitted with glare-reducing glass (for optimal illumination), and that has a stainless steel burner stem (to reduce the risk of rust).
PRODUCTS:
Cadac Eazi Lite
Cadac Ultra Lite
Mantles
About a century ago gas street lights used to burn using fabric mantles, which were specially treated with chemicals to produce a brilliant white light. Your modern gas lantern uses the same technology, with the mesh designed to match 100 or 300CP (candle power).
PRODUCTS:
Cadac Double Tie Mantles
COOKING
Gas Stove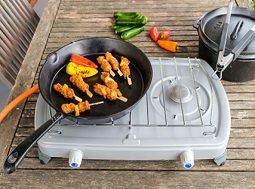 A two-plate gas stove doubles up as a non-electric indoor cooking resource, and as a versatile outdoor braai option. The butterfly fitting on most units means that you won't need a regulator: it's a simple plug-and-plug set-up. For your safety, be sure to check that whichever unit you buy has the LPGSASA (Liquid Petroleum Gas Safety Association of Southern Africa) seal of approval.
PRODUCTS:
Cadac Ultra 2-Plate Butterfly Stove
Skottel Braai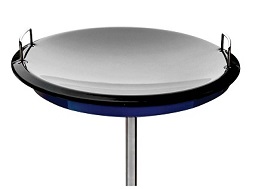 Two of the most famous – and most beloved – words in the Afrikaans dictionary are "skottel" and "braai", which basically translate to "dish" and "barbeque". Gas skottels are portable and easy to use, making them a great outdoor cooking option for pan- fry dishes.
PRODUCTS
Cadac Skottel Braai
Potjie Cooker
Potjiekos cooking – made famous by the quintessentially South African three-legged black cast iron pots – can now be done on gas, thanks to a clever fitting. You're limited to Number 2 or Number 3 pots, but the wind shield and gas-powered convenience more than make up for that.
PRODUCTS
Cadac Potjiekos Cooker
Alva Potjiekos Cooker
Storage and Maintenance
Dust Plugs
For safe storage – and to ensure no dirt or corrosives get into the cylinder valve – use a dust plug. It's cheap, and easy to use (just pop it over the valve cap), but from a safety point of view it could prove invaluable.
PRODUCTS
Livelekker Inspired Gas Dust Plug
Sealing washer
Ask anybody who works with gas, and they'll tell you: most leaks occur at or around the valve. Make sure yours is well sealed by regularly checking and (if needs be) replacing the washer.
PRODUCTS
Cadac Rubber Sealing Washers
Control Key
While your gas cylinder will come with a control key fitted, these little metal tools are easy to lose – especially if you're packing up after camp! If yours goes missing, then rest assured: a cheap and convenient replacement is waiting in-store.
PRODUCTS
General Use
Bullnose Regulator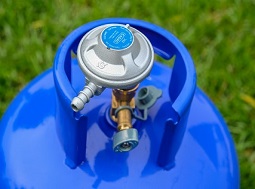 A bullnose regulator – so called because of its distinctive round shape – reduces the pressure of the gas coming out the cylinder, matching it to the pressure required by the appliance. It's vital that you get the right regulator for the job: a mismatched regulator will result in incorrect burning in the appliance, and will possibly also cause leaks in the valve.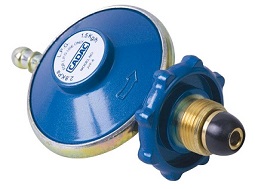 There are two main types of regulators: low pressure (2.8 kPa) and adjustable high pressure (0-300 kPa). Most regulators are suitable for both indoor and outdoor use, and should fit all LPG (liquefied petroleum gas) cylinder sizes. Some are sold with gas hoses; if the one you choose is not, then be sure to buy a hose while you're in the store!
PRODUCTS
Alva Bullnose Regulator
Safegas Bullnose Regulator
Lk's Bullnose Regulator
Cadac Bullnose Regulator
LPG Hose & Clamps
In our FAQs article, you'll read that you should only use approved gas hoses when you're working with gas – and never a garden hose, for example. A closer look at the specifications of a standard 8 mm LPG gas hose will show you why this is so. The inner tube is made of gas- and oil-resistant synthetic rubber, while the outer cover is weather-, ozone- and abrasive-resistant. Between those is a layer of single braid steel wire and textile yarn. Those layers are tested to operate to a working pressure of 1.75 mpa (18.0 bar), with a burst pressure of up to 7.0 mpa (72.0 bar). Make sure you use the right hose when you're working with gas… for your own safety.
PRODUCTS
Alva Reinforced Gas Rubber Hose
Safegas Gas Rubber Hose
T & Y Connector
You may want to use one cylinder to fuel two appliances – like, for example, a cooker top and a lamp so that you're not cooking in the dark. A hard T connector or a slanted Y connector will help you do exactly that: all you need to do is secure the connector to a set of SABS-approved gas hoses, making sure everything is safely and tightly clamped in place.
PRODUCTS
Active Hardware Brass T Connector
Active Hardware Brass Y Connector
Related Articles
how to store gas safely