Skip to content
Skip to navigation menu
Painting with vibrant colours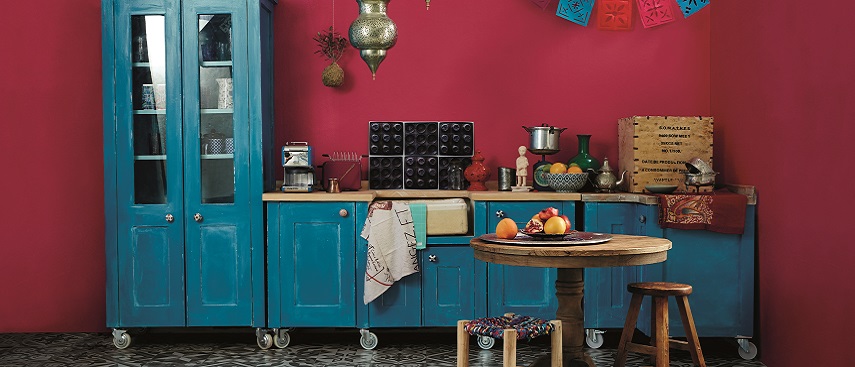 Treat your kitchen as you would the other rooms in your house
1.
Vibrant colour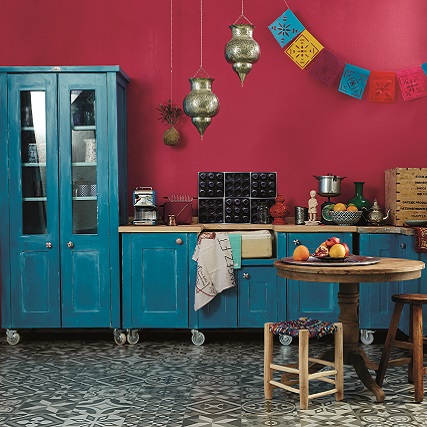 Mix rich tones and deep colours, beautiful patterns and some weathered wood to create this warm, ethnic-style kitchen. Invest in free-standing units that can be moved around and rearranged as your space and kitchen needs change, and that can be taken with you when you move homes. Create an aged look by using different hues of paint and a few paint effects.
This is how you do it:
· Prime the surfaces with a suitable product (we used Dulux Supergrip).
· Allow it to dry for 12-24 hours then sand lightly to give a smooth finish.
· Paint on a coat of the lighter blue paint. Make sure you paint the edges.
· Wait about four hours for the paint to dry. Apply a coat of the darker blue paint.
· Wait until it is properly dry then sand the edges lightly until the lighter blue paint is visible. Use the same lighter blue paint in the corners and around the edges of the panels in the doors and use a rag to spread the paint in these areas.
TIP Remove the door handles and fill the holes with wood filler before priming and painting the units. Replace the door handles with a mixture of ceramic knobs to add to your eclectic, ethnic look.
2.
Eclectic vintage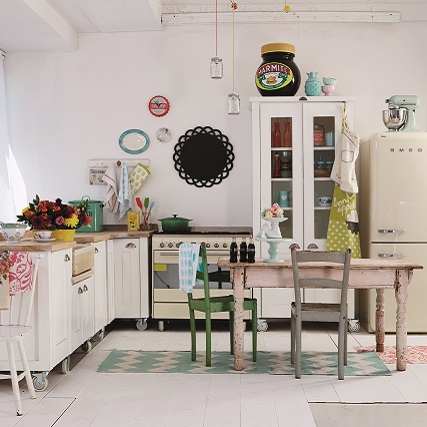 Use splashes of colour against a clean white palette for a modern kitchen. Play with patterns and mix vintage with new and tongue-in-cheek elements for a personal touch. Treat your kitchen as you would the other rooms in your house by introducing décor elements like carpets and artwork. Keep the carpets out of the main food preparation areas. Add a touch of whimsy to your kitchen by displaying an eclectic mixture of your crockery and found items together. Create a seamless look by keeping your kitchen walls and units white. It will make the room appear more spacious. Keep it from looking bare by playing with different shades of white and adding a few brighter coloured accessories. Hang a variety of vintage and new patterned plates on your wall for decoration. Use doublesided foam adhesive tape for a temporary solution to hanging your plates. Wire plate hangers are, however, a lot stronger.
3.
Pretty in Pink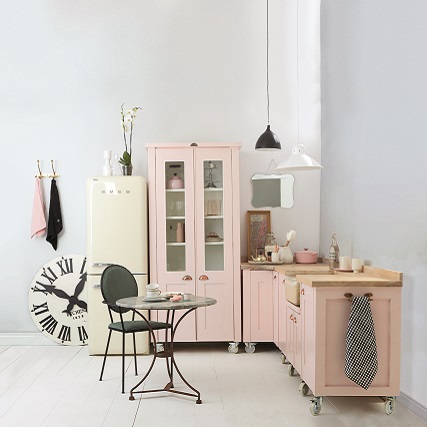 Use shades of light pink, light grey, light marble, classic black and rose copper to add a touch of French flair to this kitchen. Take the theme a bit further by hanging ornate mirrors and artwork on the walls and displaying a pretty orchid in an unused space. Hang your tea towels on coat hooks or ornate door handles to keep them out of the way but still on display. Paint the kitchen cupboards pale pink and spray painted the door handles with copper spray paint for a bit of feminine French elegance. To repaint the cupboard, first prime the surfaces with a suitable product (we used Dulux Supergrip). Allow it to dry for 12-24 hours then sand lightly to give a smooth finish. Apply two coats of paint, leaving the first coat to dry properly (a minimum of four hours) before applying the next coat. To paint the handles, remove them from the cupboards and drawers, and place them on cardboard in a well-ventilated area. Clean off any dust or oil and prime the surface to protect it from rust. Spray on a few light coats of copper spray paint, and remember to spray the heads of the screws as well. Leave until completely dry and reattach to the cupboards after you've painted the doors. Add a bit of interest by using lampshades in two different colours. We used black and white, in a French café style.
TIP Upholstered chairs add a touch of luxury and comfort to your kitchen. Keep them looking good by spraying the fabric with an upholstery protection product like Scotchgard.
TIP Instead of investing in expensive, ornate cutlery why not spray paint some of your old items with rose copper spray paint? Follow the same steps as you would for the door handles. Take care to only spray the handles if you're still going to be eating with the cutlery.
*Referenced from Gallo images / Ideas Magazine