Skip to content
Skip to navigation menu
Transform a little boy's bedroom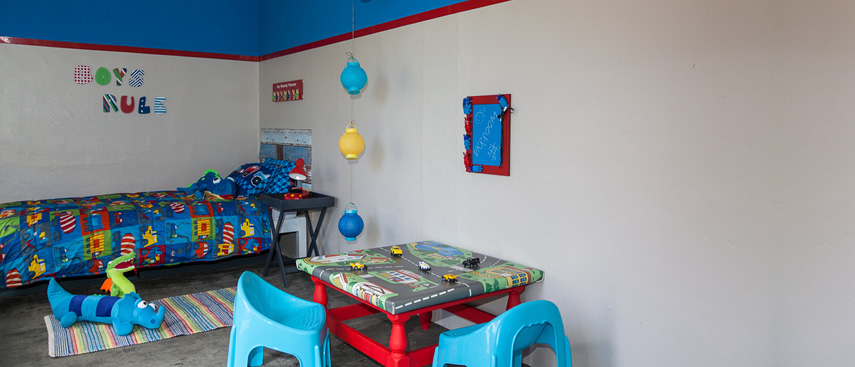 Transform a little boy's bedroom by painting the walls and doors
With a lick of paint, a stripe of gaffer tape, wallpaper and a furniture makeover you can transform an ugly space into a racy boys' bedroom
Low-VOC paint is especially important in children's bedrooms. We chose Modo Chalkboard paint and Evolve Zero-VOC interior PVA.
We've applied the 60:30:10 rule by painting the bottom two-thirds of the wall with a lovely neutral and the top third with blue chalkboard paint. To finish it off we applied a strip of red gaffer tape where the two colours meet and used the red as an accent colour throughout the room – that's your 10 per cent.
The sliding door was transformed into a barn-style door by applying wood-panelled wallpaper from Fired Earth. This was echoed again by creating the faux headboard that is simply a strip of the same wallpaper applied to the wall above the bed. And we added cars and wall details to make this little boy's dream room come true.
You will need:
Modo chalkboard paint, colour Jet Blue

Evolve indoor PVA, colour Polished Porcelain

Red gaffer tape

Painter's tape

Spirit level

Tape measure

Wallpaper glue

Fired Earth distressed wood wallpaper

Roller and tray

Cutting-in brush

An old tin to mix the wallpaper glue

Paint stirrer
Step 1
On clean walls, measure and mark two-thirds up the wall.
If your floor is uneven, measure from the ceiling. In this case, the ceiling was not straight, so we measured from the floor.
Step 2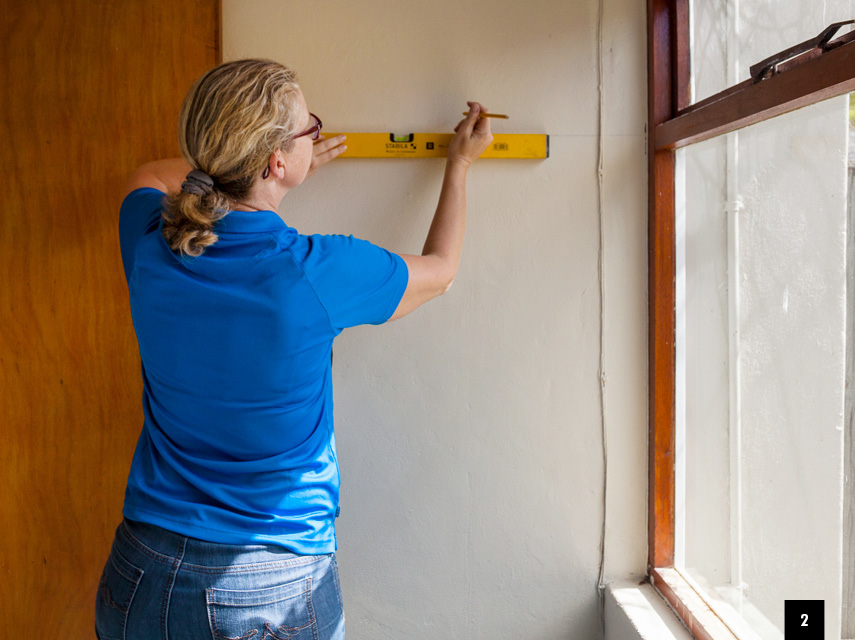 Use a spirit level to draw straight, level lines between your marks.
Step 3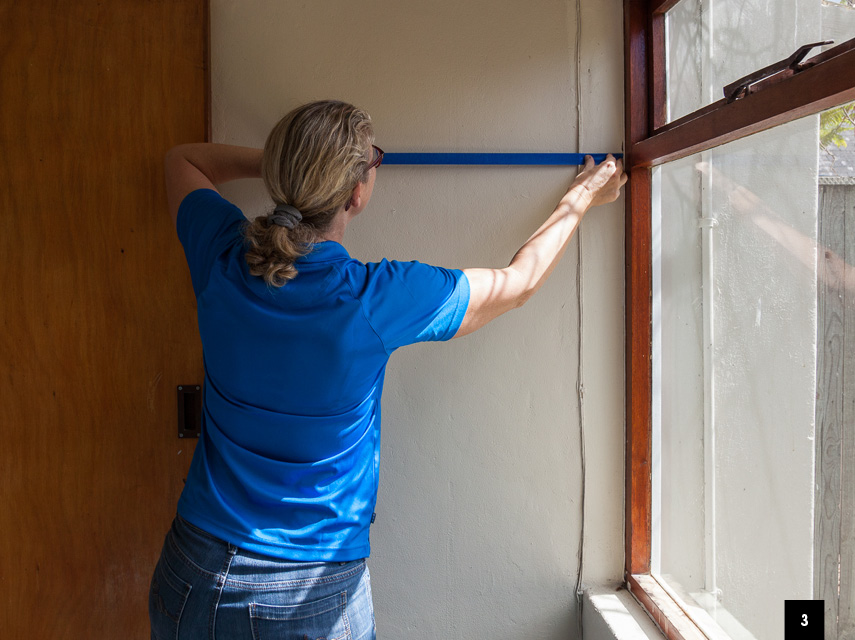 Run the painter's tape carefully along your marked up line.
Then use the tape to mask along the ceiling or cornice, doors and windows and electrical fittings.
Step 4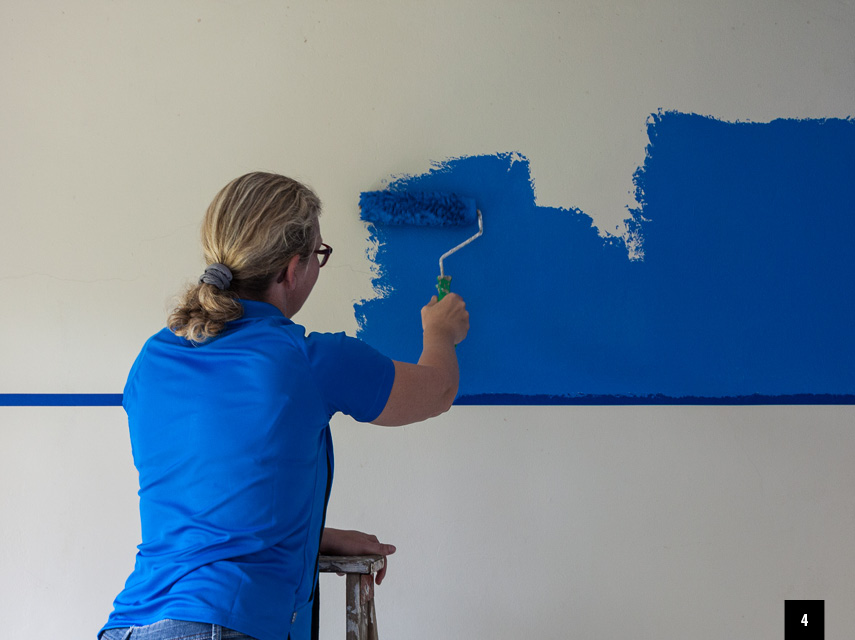 Paint the top third of the wall in Modo Jet Blue chalkboard paint.
Allow to dry thoroughly and then paint a second coat.
Step 5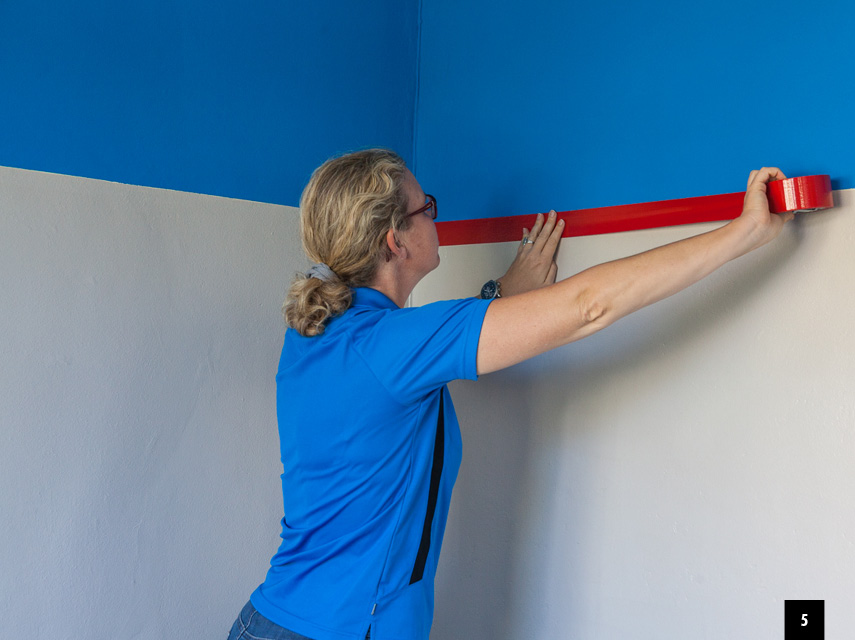 Move the painter's tape up to above your marked up line and paint the lower two-thirds of the wall in Evolve Polished Porcelain.
Allow to dry and paint a second coat.
Step 6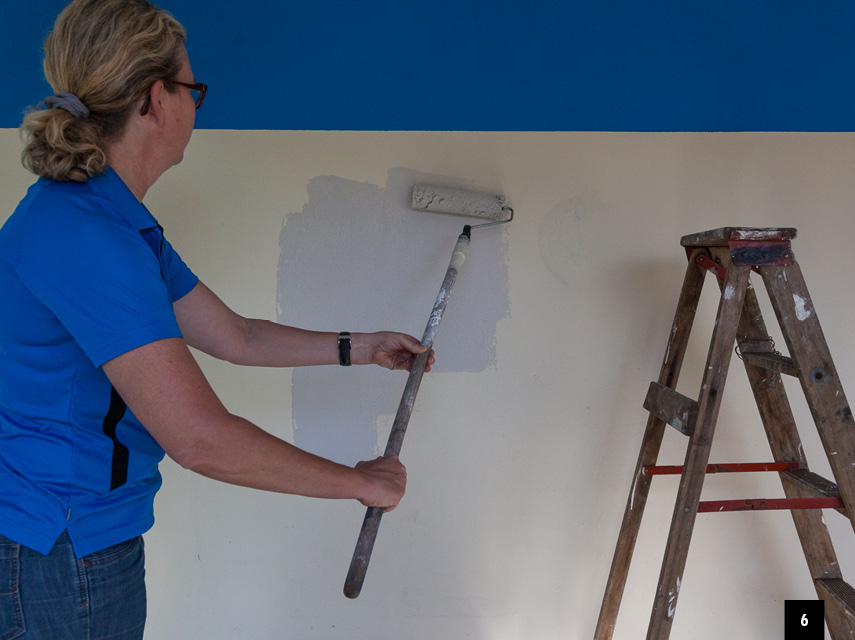 Once the paint is completely dry, remove all the painter's tape. Now run the red gaffer tape along the line separating your blue and neutral.
Take it slowly and you will get a good finish.
Step 7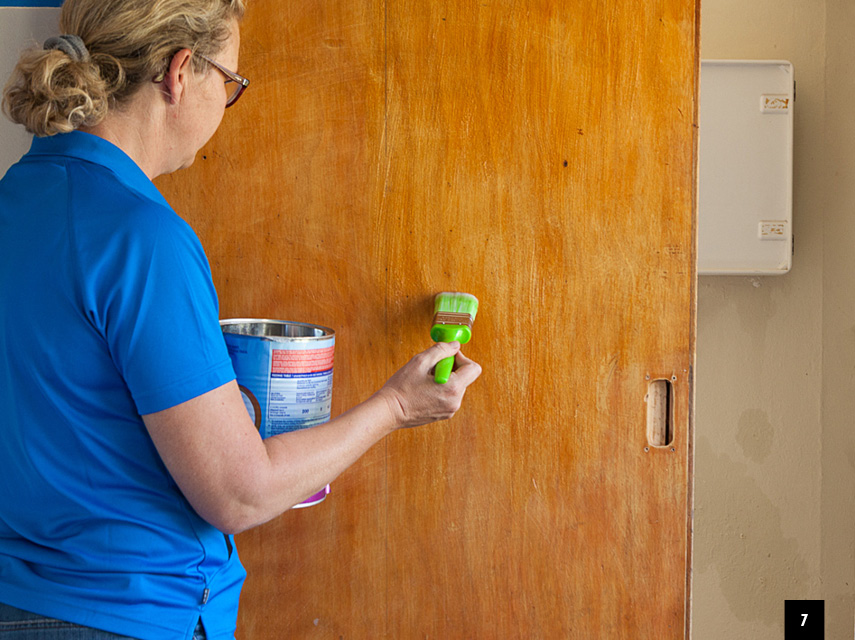 Hang the wallpaper for your feature door and mock headboard.
The door will need to have had the fittings removed and been sanded and dusted beforehand.
Mark up a vertical guiding line in the middle of the door (don't use the door edge as a guide as you will need to leave some of the wallpaper to fold over the edge.
Paint the door with pre-mixed wallpaper glue and hang according to your guide line.
Step 8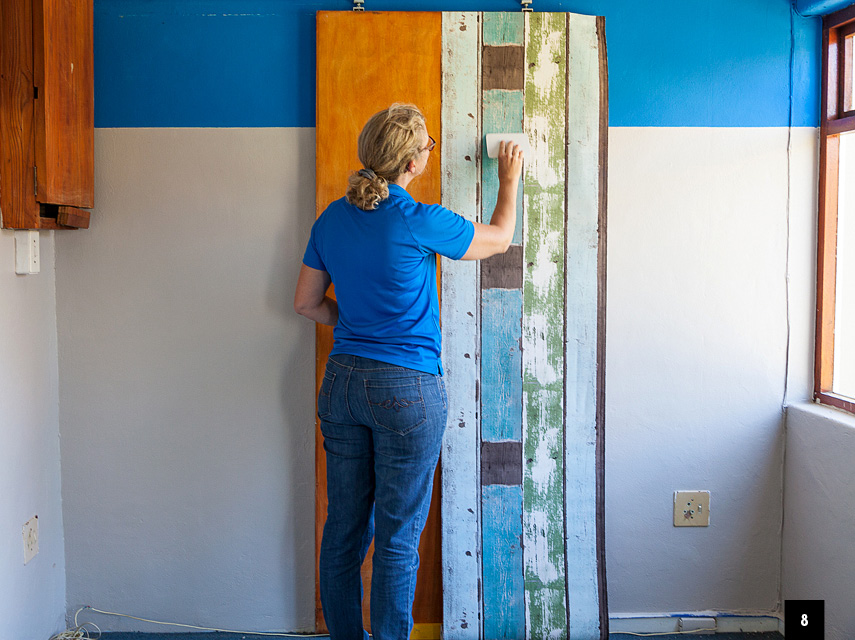 Smooth out any bubbles using a putty knife and a cloth.
Be gentle so you don't scratch the wallpaper.
Fold over the edge of the door for a perfect finish.
Once the wallpaper is dry, you can replace the door handle.